Description
Personality disorders have typically been viewed using a categorical approach, which assumes that each personality disorder is a separate and distinct category. We will discuss an alternative approach which focuses on the traits of these complex individuals and where they lie on various dimensions. This training aims to broaden and deepen participants' understanding of personality disorders and provide treatment strategies aligned with the current literature on the dimensional approach. The morning session of the training will provide an overview of personality disorders and how each disorder is viewed through the dimensional model, with a focus on how such traits relate to risky behaviours (e.g. self-harm, offending behaviours). Furthermore, the question of 'Can they change?' will be explored.
The afternoon session will focus on treatment approaches and challenges, including discussion on interpersonal boundaries and the rupture/repair process. Considerable time will be spent exploring the impact of trauma on the development of personality disorders and the importance of processing such trauma in order to meet the goals of treatment. Options for therapeutic modalities to specifically treat an individual's trauma will be outlined. Specific skills that participants can use with their clients will be covered, and research outlining the effectiveness of treatment on this population will be explored. The afternoon session will explore treatment techniques adapted from many therapeutic approaches including Motivational Interviewing, Schema Therapy, Dialectical Behaviour Therapy, and Mentalisation-Based Treatment.
The training will utilise case studies to illustrate the lived experience of individuals with personality disorders and for participants to hone their formulation and treatment planning skills with this population within the dimensional approach. Participants are encouraged to come with questions regarding their own personality disordered clients.
Faculty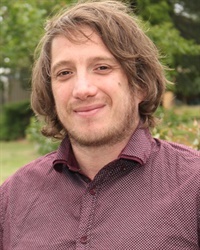 Receptive Psychology
---
Dr Luke Hockey is an endorsed forensic psychologist with over 10 years experience working with individuals with personality disorders. He has worked in private practice, public and private prisons, hospitals and for not-for-profit community organisations. Luke has delivered lectures and training workshops for Deakin University, ISN Psychology College, the APS College of Forensic Psychologists, and government departments. He is passionate about working with challenging clients and providing avenues for change, as well as assisting other clinicians to develop their skills in this area. Luke currently works in private practice, treating a variety of clients, writing psycho-legal assessment reports for court and providing supervision to other mental health professionals.
---
Registration Details
Face-to-Face registration
Fee: $249
$29 to purchase and keep the recording of this event.
Tea and coffee are included. Food may be purchased on the ground floor or from the many surrounding cafes.
You will need to sign in on arrival to be eligible for an Attendance Certificate.
Your attendance certificate for 7 hours of face-to-face, active training can be retrieved on completion of your evaluation via your login account.
A hard copy of notes and resources will be available to you on arrival at this event.
If for whatever reason, you are unable to attend this live event on the day, your registration will be transferred into the live interactive webcast of this event with three month's access to the recording.

N.B.

Face to face participants are required to comply with

COVID

safety measures as outlined by the venue and

PDP

.




Details of the measures current at the time and in line with public health orders will be advised in your pre-event reminder/information emails.




The venue and

PDP

reserve the right to deny entry to any participant who chooses not to follow

COVID

safety plans.
Live Interactive Webcast registration
Fees: $199 Primary viewer (includes three month's access recording of the event.
$99 Additional viewer (must watch on same device as primary viewer)
$29 Purchase lifetime access to the recording (available to primary viewer only)
Your attendance certificate for 7 hours of live, interactive training can be retrieved on completion of the evaluation and quiz via your account.
A soft copy of all resources will remain in your account indefinitely.
A recording of this event will be available in your account approximately three weeks after the live event and will remain available for a full three months. You will receive an email notification when the recording becomes available for viewing.
If for whatever reason, you are unable to join the live webcast on the day, you will be able to watch the recording, complete your evaluation and quiz and retrieve your certificate at a later date before the end of the three month viewing period.
Reminders for all events are sent two weeks, one week, one day and one hour prior.
Venue information
COVID-19 AND YOUR SAFETY


Our venue is registered with Service NSW as a 'Covid Safe' venue.
You will be required to checkin via our QR code and to abide by the safety measures current at the time and in line with public health orders. These will be advised in your pre-event reminder/information emails.
In the interest of everone's safety, PDP reserves the right to deny entry to any participant who chooses not to follow the current COVID safety plans.
ACCESSIBILITY
This venue offers wheelchair access from the Brown Street entrance.
PUBLIC TRANSPORT
4 minute walk from Chatswood train/metro/bus interchange
PARKING
Links to reasonable early-bird parking close to the venue:
https://www.secureparking.com.au/en-au/car-parks/australia/new-south-wales/sydney/lower-north-shore-and-northern-beaches/zenith-centre-car-park
https://www.secureparking.com.au/en-au/car-parks/australia/new-south-wales/sydney/lower-north-shore-and-northern-beaches/12-help-street-car-park
NOURISHMENT
All day tea, coffee and chilled water are provided.
If you have not ordered lunch with your registration, we have a fridge and two microwave ovens should you wish to bring your own food.
The venue has a cafe on the ground floor and is surrounded by cafes and restaurants including an extensive food hall above the Chatswood Interchange.
ACCOMODATION
Mantra Hotel is next door to the venue: website here
Meriton Suites is a 4 minute walk from the venue: website here
Objectives
Develop an understanding of the categorical and dimensional approach of personality disorders and how they differ
Develop an understanding of formulation using the dimensional approach
Learn practical skills to use when undertaking treatment with this population
Develop an understanding of the importance of the therapeutic relationship with this population
Understand why, in order to effectively treat an individual with a personality disorder, clinicians must address the trauma history
"This training will focus on a new, trait-based approach to personality disorders which will broaden and deepen your understanding of challenging presentations and provide you with practical treatment skills" Dr Luke Hockey
How Will you Benefit From This Training?
Understand a new approach to formulating, assessing and treating individuals with personality disorders that aligns with the current literature
Broaden and deepen your understanding of your clients with personality disorders
Learn practical treatment skills that you can use with your clients
Outline
Morning Session
Overview of the 10 personality disorders from both the categorical and dimensional (trait-based) lens
How these personality disorders, as viewed from the trait-based perspective, relate to risky behaviours such as self-harm, substance use and offending behaviours
Discussion of whether personality changes over time at the trait level and how this relates to our work as clinicians
Afternoon Session
Treatment approaches within the trait-based lens, including brief overview of how the following modalities have been typically used to treat personality disorders: DBT, Schema Therapy and Mentalisation-Based Treatment
Discussion on trauma: the forms it can take, why it is so important to process it, and evidence-based therapeutic modalities that allow you to do so
Treatment challenges, including the manipulation of interpersonal boundaries and what to do with a client who doesn't want to be there
Brief overview of the research on the effectiveness of treatment for personality disordered individuals
Target Audience
This presentation is intended for clinicians working in mental health including psychologists, psychiatrists, counsellors, social workers and mental health nurses The material is intended to provide an introduction to the theory and clinical practice for application following the training.
Webcast Schedule
Morning Session
9:00am - 12:45pm
Includes a 15 minutes break at 10:45am
Lunch Break
12:45pm - 1:45pm
Afternoon Session
1:45pm - 5:00pm
Includes a 15 minutes break at 3:15pm
Location