Description
Many clients consult helping professionals because they are experiencing difficulties with dysregulation. Heightened anxiety, anger, low motivation and dysphoria are all indicators of dysregulation.
After traumatic experiences it is common for the nervous system to get stuck in a hyper aroused and/or hypo aroused state leading to difficulties with relaxation, concentration, focus, sleep, emotion regulation and orientation to time and place. Dysregulation in the nervous system can compound over time as people try to cope with associated distress by avoiding or self-medicating.
This course will provide the skills to effectively teach clients to regulate their nervous systems and emotions. Techniques for assisting hyper arousal and hypo arousal are taught and participants will directly experience these skills as well as taking away tools for conveying them effectively to their clients.
Stressors from work and daily life commonly impair healthiest functioning, and research shows that emergency and helping professionals experience far greater rates of PTSD and PTSD-type symptoms than the general population, yet as clinicians working with dysregulated people it is imperative that we maintain healthy regulation as we work. Whilst learning how to teach self-regulation skills to clients, participants will also finesse their ability to maintain a state of calm, centred responsiveness, thereby maximising our effectiveness with clients.
Participants will take away a toolkit of effective strategies to manage dysregulation and restore a balanced regulated state within their clients and themselves.
Feedback form Jackie's recent presentations:
'Best training I've had in years! Thank you!'
'I found all the information very useful for my client work.'
'Clear, great content.'
' Engaging style.'
'Really interactive - thanks'
'Jackie is fabulous!'
'Awesome day – thank you!'
'I really appreciated your systemic approach and upbeat style.'
'Great training day - I learnt heaps.'
Faculty

---
Jackie Burke is a registered psychologist with 20 years of experience in counselling and supervision services. She has worked in remote Australia, regional and metropolitan NSW and has directed national programs for people affected by sexual, domestic and family violence. She is an awarded researcher, and her training programs about trauma, sexual and domestic violence, clinical supervision, trauma informed practice, and vicarious trauma are popular nationally and internationally.
After holding senior management roles for the past 15 years, Jackie established her own private practice and consultancy business in early 2017. She is a published author with an adjunct position at Western Sydney University.
---
Additional Info
Program Information
Event Schedule
Morning Session
9:00am - 12:30pm (includes 15 minute break at 10:30am)
Lunch Break
12:30pm - 1:00pm
Afternoon Session
1:00pm - 4:30pm (includes 15 minute break at 2:45pm)
Registration Details
Face-to-Face registration
Fee: $249
$29 to purchase and keep the recording of this event.
Tea and coffee are included and food may be purchased from the many surrounding cafes or you can order a fresh lunch as part of your registration.
You will need to sign in on arrival to be eligible for an Attendance Certificate.
Your attendance certificate for 7 hours of face-to-face, active training can be retrieved on completion of your evaluation via your login account.
A soft (digital) copy of notes and resources will be available in your account indefinitely and you may also purchase a hard (print copy) as part of your registration.
If for whatever reason, you are unable to attend this face-to-face event on the day, your registration will be transferred into the live interactive webcast of this event with three month's access to the recording.
N.B. COVID SAFE HEALTH ORDERS
We operate from registered Covid-Safe venues and are committed to your safety.
Our operations and procedures are continually updated to ensure we comply with all relevant health orders.
We will communicate any changes to health orders to you as soon as they are available to us.
We ask for and appreciate your cooperation in complying with the orders.
In the interests of everyone's safety, we ask that you notify our team if you are unable to comply with the current orders. We can then offer you a transfer to an option to ensure you are can complete your training.
Objectives
Learning objectives of this training:
An understanding of the human nervous system and sources of dysregulation
How to effectively teach skills to increase energy, motivation and presence
How to effectively teach skills to calm down and centre the self
How to teach skills to manage uncomfortable emotions
"Become an expert on helping clients to manage their internal states." Jackie Burke
How will you benefit from attending this training?
Understanding the latest research on the impacts of trauma on the nervous system.
Use knowledge about how the human nervous system works to regulate arousal.
Respond effectively when emotions arise in the course of your work.
Outline
Morning Session (includes a short break)
The human nervous system
Sources of dysregulation
Auto and co-regulation
The impacts of trauma on the nervous system
Teaching regulation skills​
Afternoon Session (includes a short break)
Monitoring dysregulation.
Regulating the nervous system
Managing emotional discomfort
Evaluation and quiz - your payment includes a quiz which when completed with a minimum of 80% correct answers, will enable you to download your Attendance Certificate.
To complete the quiz, please log into your account at pdp-catalogue.com.au and click the orange "Certificate" button under the program's title.
Target Audience
This seminar has been designed to extend the clinical knowledge and applied skill of Psychologists, Counsellors, Psychotherapists, Coaches, Social Workers and Psychiatrists as well as anyone who occupies an emergency or helping role (including call-centre staff, case workers, police, fire, ambulance and emergency service workers, crisis intervention workers, court, legal and judiciary professionals, supported accommodation staff, refuge workers, and aid workers).

Location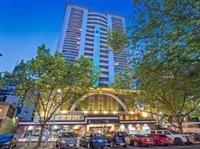 222 Russell Street, 222 Russell Street, Melbourne, VIC 3000, Australia
+61 1300 092 872
all.accor.com