PDP Training Centre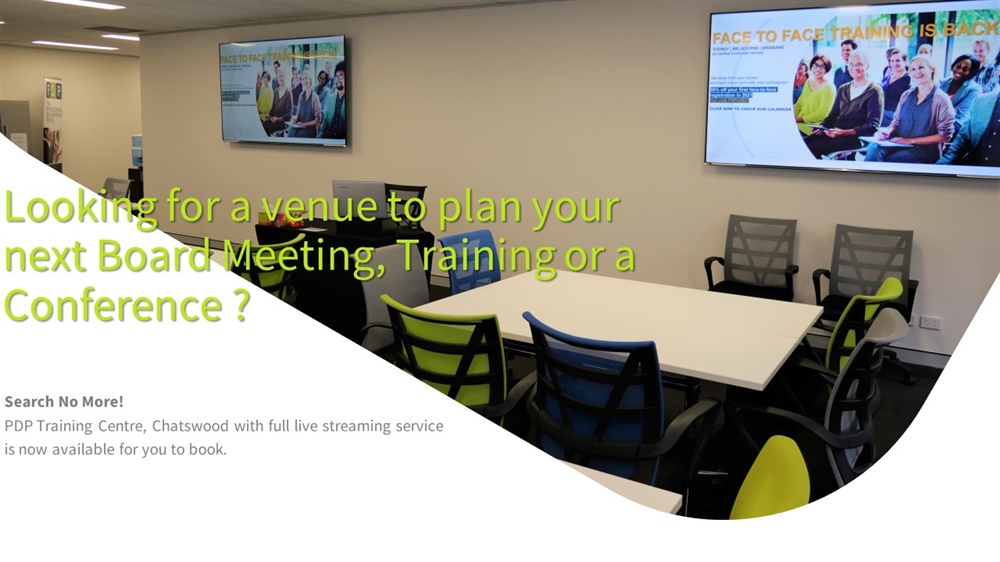 PDP TRAINING CENTRE , SUITE 108, LEVEL 1, 10 HELP STREET, CHATSWOOD 2067
After running over 500 events including training programs, symposia, conferences and meetings, we've brought together our vast experience to create an exceptional venue.
Full of natural light, airconditioned to your specification, and equipped with high-definition technology, our centre is located in the heart of Chatswood's CBD, just off the Pacific Highway. We are right by The Interchange Transport Hub, public parking stations, hotel accommodation, Westfield Shopping Centre, various cafes, restaurants and open public spaces.
We can arrange all your catering and printing to provide you with a complete event experience.
COVID-19 AND YOUR SAFETY:
Our venue is registered with Service NSW as a 'Covid Safe' venue.
QR code check-in and compliance with current public health orders required of all guests.
Venue is fully sanitised after every event.
Guests are encouraged to freely sue the hand sanitiser provided on entering and before using facilities/appliances.
Guests are welcome to use the disinfectant wipes provided at their convenience on any surfaces to feel safe and secure.
CONVENIENT LOCATION:
Easy access to Public Transport - 3-minute walk to Chatswood Interchange for trains, metro and buses. 20 minutes by train to Sydney CBD.
Public parking stations near by - Several public carparks in the surrounding streets offering very reasonable early-bird rates.
Surrounded by cafes & restaurant - A vast selection of cuisines to suit your taste and your budget including Maria's on the ground floor.
Hotel stay options right next door. Various hotel accommodation opportunities next door and in the surrounding streets.
CONVENIENT SERVICES:
Customisable setup - Ergonomic chairs and tables on wheels, allow a customised room in class-room, board-room, U-shape and other seating layouts to meet the unique needs of your event.
Tea, Coffee, & Water stations - Chilled water cooler, two tea & coffee stations, large refrigerator, two microwaves. Bring your own or we ask us to arrange fresh and delicious catering.
4K Full HD Monitors - Precisely positioned 85" monitors for optimal viewing from every seating location.
Presenter Monitor - Full HD presenter monitor provides comfort and convenience for presenting to an audience in both seated and standing modes.
Lobby screen display - Play your event content (Video or Static) on the display screen in our beautiful building lobby.
On-Site Printer - Let us take care of all your printing needs for a seamless professional event. Your printed materials will be waiting in the room for you.
Online / Live Streaming - If you are looking to live stream your session via Zoom, Teams or others, we've got you covered.
High Speed Internet - High speed internet available with 2 separate lines - one for uninterrupted streaming of your event and a second for delegate convenience
CONVENIENT PRICING:
Enjoy peace of mind with our flat rate for half day or full day bookings. Avoid the hassle of paying extra for every additional item with our highly inclusive rates.
AU$ 700 - Half Day 4.5 Hours
AU$ 1200 - Full Day 9 Hours
Venue hours: Monday – Friday : 8.30 AM – 5:30 PM | Saturday & Sunday – Closed
Additional 15 mins before & after the booking hours will be provided for set-up & dismantling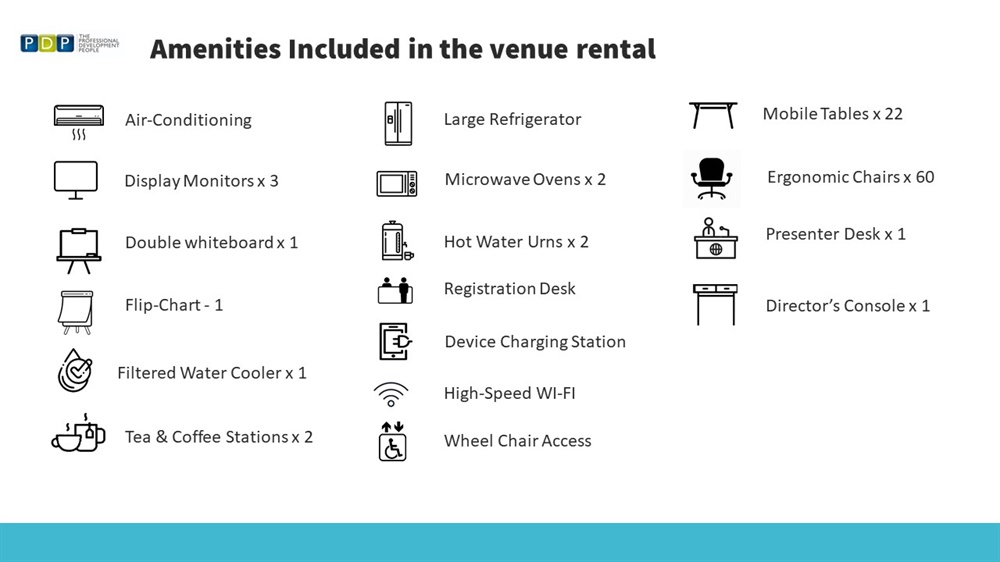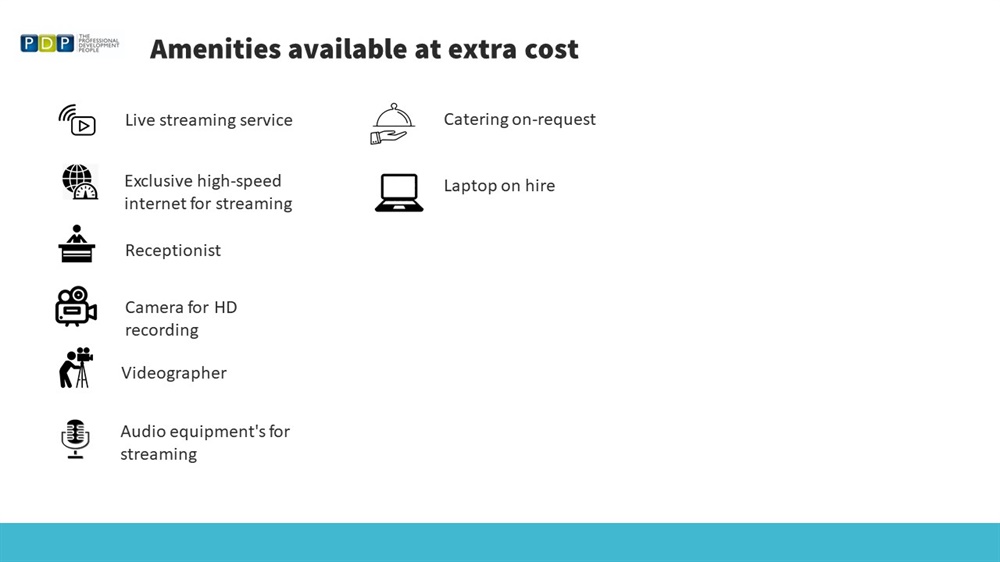 PAYMENT / BOOKING TERMS & CONDITIONS
Payment Terms: 25% deposit is required to secure a booking. Balance 75% is payable minimum 4 weeks prior to the booked event date. Bookings within 3 weeks of the event date require 100% payment to secure the booking.
Refundable Security Bond: A 50% security bond is required along with the booking deposit. Security Bonds are refunded within 7 days post room inspection.
Additional hours Additional hours will be charged @ $80 per hour.
Damage to facility: Any damage to the venue or the amenities at the venue are deducted from the security bond. Damage amounts in excess of the bond will be invoiced for payment.
Room Capacity: The hirer is responsible for ensuring that the number of persons in attendance does not exceed the maximum allowabler limit of 60 attendees.
Cancellations: 100% of booking fee and bond is refundable for cancellations up to 4 weeks prior to the event date. Cancellations within the 4 weeks prior to the event date will be refunded at 50% of the booking fee (entire bond will be refunded). No refunds are made for cancellations within 2 weeks of a booked event date.
The HIRER is responsible for the conduct of those attending the function.
BOOK US FOR :
Board Meetings - From small in room meetings, to larger stakeholder events and inclusive streamed meetings – we've got you covered.
Conference / Trainings - Large or small groups can all enjoy our light and comfortable training environment with the latest technology and amenities.
Online / Streaming Events - Wherever your audience is located, our high-speed streaming service ensures everyone can enjoy quality event engagement.
Capacity : 15 – 60 pax (please refer to current Covid-Safe health orders)
We look forward to welcoming you to the PDP Training and Conference Centre soon!
For booking enquiries contact: info@pdpseminars.com.au | 1300887622